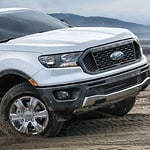 The Ford Ranger is a new mid-size pick-up truck that is winning fans all over the Tracy area. So what makes the Ranger a popular choice? Many believe its the truck's incredible design that makes it a class leader. Here's a look at some top design features of the Ranger.
The Ranger is able to easily handle all-terrain situations thanks to his high approach, break-over and departure angles. This allows you to enjoy the Ranger over large rocks and other challenging off-road situations. The Ranger also offers you lots of comfort on the inside with its large SuperCrew cab configuration. This can allow you to comfortably seat four passengers with more space than the competition.
At Tracy Ford, you will find a wide selection of brand new Ranger trucks. You are invited to take a test drive and see what the Ranger can offer. We look forward to showing you the Ranger in action.