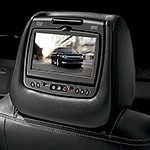 At Tracy Ford, we understand that finding a car that gives you the space you need, the milage you need, and the technology to make your life easier can be difficult. That's why we have brought the Ford Flex to you. One of the first of it's kind, it is a mid-sized three-row SUV with plenty of technology packed in.
For those who often take trips outside of Tracy, you know you need decent gas mileage to get around. The 3.5L EcoBoost V6 gives you the ability to speed up and slow down without wasting gas. It's efficient, simple, and better for the environment than most standard engines.
Once you get where you're going, you know parking can be a pain, especially in a mid-sized SUV. The Ford Flex has active parking assist, searching carefully for parking spots your vehicle can fit into. Additionally, when you go to park, take advantage of the backup camera and grid, meaning you'll never have to worry about having an "oops" when parallel parking again. Don't believe us? Come take it for a test drive and try it out yourself today.