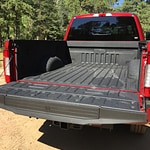 The Super Duty has long been a favorite among pickup owners who want a vehicle that can handle whatever needs to be done. The unique design features of the truck ensure durability, which enables the Super Duty to provide faithful service for years to come.
The frame is constructed using military-grade steel. The body consists of an aluminum-alloy that reduces the truck's weight but is strong enough to resist dents, scratches and rust. The box is also made using high-strength steel and 10 cross members to make the box exponentially stiffer.
The pickup has endured more than 20 million miles of tests in temperatures ranging from -20 to 120 degrees Fahrenheit. Tests also involved driving over various terrain types while being exposed to various environmental challenges. Super Duty passed all the tests. The trucks are on display at our Tracy Ford facility for inspection and a test drive.