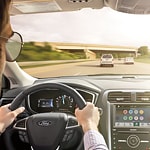 If you're going to take a trip to a rural area in the great outdoors, a Ford Fusion can help you get there, and you can buy it at Tracy Ford. This popular midsize sedan has amazing features that can provide big benefits in wilderness zones. You'll discover two reasons why the Fusion is an ideal automobile for camping adventures in this blog post.
A Convenient Trunk

The Ford Fusion's trunk is 16 cubic feet, so you can easily store essential items in it. Before a trip, you can arrange a few small bags, a compact cooler, and more in the trunk.
A Moonroof for Comfort

? In the great outdoors, there is plenty of crisp fresh air, and you can breathe it in and cool off while driving a Fusion by opening the moonroof. The moonroof is a reasonable size, so a lot of light also enters the cabin while the panel is opened.